ENSAR2
European Nuclear Science and Applications Research - 2
ENSAR2 (project number: 654002) is the integrating activity for European nuclear scientists who are performing research in three of these major subfields: Nuclear Structure, Nuclear Reactions and Applications of Nuclear Science.
NuPIA
Nuclear Physics InnovAtion

NuPIA is a transversal network activity meant to reinforce the partnership of Nuclear Infrastructures and Institutions with Industry and to promote the use of Nuclear Physics Infrastructures by industrial researchers. NuPIA is a link between innovation officers of the institutions, research groups in various ENSAR2 WPs and industry.
"Global Nuclear Physics Innovation"





BROKERAGE EVENT



2-3 December 2020, Warsaw, Poland (Digital Edition)
Dr Tomasz Krawczyk
e-mail: tj.krawczyk@uw.edu.pl

Heavy Ion Laboratory
University of Warsaw
St. Pasteura 5A
02-093 Warsaw - Poland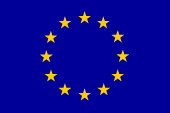 ENSAR2 is funded by the European Commission within its HORIZON2020 Programme under the specific programme 'Infrastructures